Type of Music: Classical

Number of Musicians: 12
(may be adjusted to suit your
particular desires and musical
requests)

Instruments: 6 violins, 2 violas,
2 cellos, flute & trumpet

Performance Attire: Formal attire

Other Comments: THE PARAGON CHAMBER ORCHESTRA is an elegant chamber ensemble made up of virtuoso players from the prestigious Columbus Symphony. The lush sound of these combined strings and winds creates a brilliant musical accompaniment for wedding ceremonies, or a stunning backdrop for receptions, banquets, and fundraising events.
This Orchestra's rich repertoire includes Classical, Baroque & Romantic favorites, along with whimsical, light classical selections.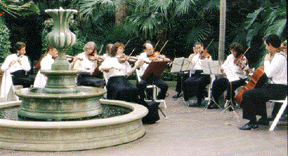 The Paragon Chamber Orchestra
Information about each of the performers displayed and described, was obtained directly from each performer, and is therefore believed to be accurate.