Type of Music: Classical

Number of Musicians: 3

Instruments: Flute, Violin & Cello

Performance Attire: Formal attire

Other Comments: The Paragon Trio
features three conservatory trained
classical musicians (associated with
the prestigious Columbus Symphony
Orchestra). This celebrated group
has been performing for Columbus area events since 1985, providing exquisite background music for receptions, cocktail parties, banquets, open houses, and other events.
The Paragon Trio performs light classical music, along with pretty pop tunes, jazzy standards and Broadway show tunes, waltzes and ragtime. Their soulful and technically brilliant playing provides just the right touch for elegant background and dinner music - creating a relaxing and enjoyable ambiance for your special event.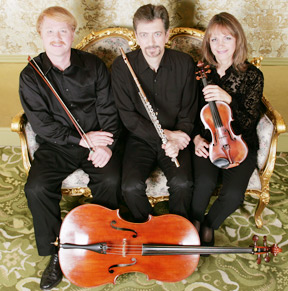 Information about each of the performers displayed and described, was obtained directly from each performer, and is therefore believed to be accurate.